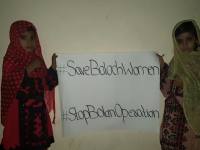 Occupied Balochistan located in the centre of South Asia, Central Asia and Middles East is a land where Pakistani state is involved in extrajudicial executions, torture, displacement, Kidnapping and massacre of Baloch people since 27th March 1948 when Pakistan forcibly occupied the sovereign state of Balochistan.
Since 1948 the people of Balochistan have made five attempts to regain their independence but Pakistani state with help of fundamentalist state of Iran and others crush all the five movements using disproportionate and indiscriminate force. The current freedom movement against Pakistan is considerably more widespread, stable and stronger than the past attempts of freedom movement. The current phase of ongoing Baloch freedom movement started in late 1999 and it has the support of Baloch masses from across Balochistan. The current movement has a powerful political command all over Balochistan and has established stronger Diaspora communities in many countries of world to support and promote the Baloch cause.
That's why the Pakistan army is doing all it can to crush and defeat the current liberation movement by carrying out mass killings, brutal military operations and unleashing local criminal gangs and religious extremist groups against Baloch freedom fighters. In past 15 years Pakistan army abducted and disappeared more than 20,000 Baloch activists, killed more than 10,000 and displaced hundreds of thousands of Baloch from their native towns and villages. The methods that Pakistan use to eliminate pro-freedom Baloch activists includes the infamous kill and dump policy of state and the target killing of most educated and politically active members of Baloch society. In January 2014, at least 169 human remain were found from a mass grave in Tutak area of Khuzdar Balochistan. There has been reports of recovery of mass graves in other regions of Balochistan as well.
Another gruesome act of violence is throwing of the bodies of Baloch activists from helicopters in different areas of Balochistan and killing of previously abducted Baloch in staged encounters. Moreover, the Pakistani army indiscriminately uses gunship helicopters and fighter jets of PAF (Pakistan Air Forces) to bomb Baloch civilian populations killing hundreds of people, thousands of livestock and burning peoples' houses and standing crops. On several occasions, Pakistani forces used chemical substances against Baloch people and poisoned the only sources of water in Balochistan to kill people and their livestock.
As part of its continuous state terrorism, the Pakistani forces conducted massive military operations in Bolan district of Baloch starting on on 8th November 2015, which continued for three weeks. According to the local source Pakistani military abducted 74 people including women and children from district Bolan's several villages including Dagari, Sanjwal, Buzgar. Suhr Kumb, Barbad, Kulch & Lakkad during the three-week offensive. Crops, farms and a jungles covering and landmass of around one thousand acres were set on fire by Pakistan forces. It is also worth mentioning that Pakistani forces have looted belongings from Baloch families worth millions of rupees. Livestock were also reportedly loaded on military trucks and taken away to Punjab Pakistan for auctioning.
The local sources in Bolan also reported that Pakistan forces threw few Baloch elderly men and youth in burning fire and let them to burn alive. After such brutal and indiscriminate military operation there is an acute shortage of food and medication in the affected areas but international medical teams and humanitarian organisations are prohibited by military to visit the area and support the people in need.
Since the illegal occupation of Balochistan Pakistan has been using different tactics to counter the Baloch movement but in Bolan operation Pakistan showed the malicious face by going a step further and abducting Baloch women along with their children many of whom are reportedly infants. Even being an Islamic country, Pakistan is violating Islamic principles and conducting war crimes in Balochistan. Pakistani forces abducted at least Twenty-Eight Baloch women and more than fourteen children. An 80-year-old Baloch women Hatoon Bibi was tortured to death by Pakistan army when she tried to resist the abduction of her family members.
The identity of some of the abducted Baloch women have been confirmed as following Dur Bibi wife of Osho Chalgiri Marri , Gul Pari wife of Dil Vsh Marri along with three daughters, Bahkt Bibi wife of Dil Vsh marri along with one son and three daughters, Bibi Zar Bakht wife of Rahm Dil Marri along with four daughters, Bibi Zarmedo wife of Gazzo Marri , Hata Bibi wife of Ali Marri along with sons and two daughters, Jar Bibi wife of Kalu Marri along with one Daughter, Ban Bibi with Six Daughters ,Bibi Waeri Wife of Ali Marri, Gul Bibi wife of Tangho Marri with two sons, Jhan Bibi wife of Lal Mohd Marri, Babi Hani wife of Ali Baksh Marri along with one daughter and Bibi Noor Banu wife of Mulla Nizar Mohd along with two daughters.
Previously also several Baloch women and children were abducted from Kohlu, Dera Bugti, Naseerabad and Awaran regions of Balochistan and their whereabouts remain unknown to this day.
Pakistan army has completely suffocated the media and news channels by preventing them from reporting the state crimes in Balochistan. The international media and journalists are banned from visiting Balochistan since 2006 because Pakistan considers coverage human right violations in Balochistan by international media as a threat to its 'national interest'. That is why the international media heavily depends on Pakistan media reports, which only follows the state's narrative and ignores the state atrocities against Baloch people. The Pakistan state narrative is to downplay the state atrocities and human rights violations against Baloch people.
The major Baloch resistance organisations in Balochistan, the Baloch Liberation Army (BLA) in a statement after Bolan military operation and abduction of around 28 Baloch women along with their kids, requested the International Media and human rights organisations to visit the affected areas and witness the state atrocities for themselves. Different Baloch political parties and committees also strongly protested against the operation in Bolan and other areas of Balochistan.
Baloch social activists run campaign on twitter, Facebook using the hashtag #SaveBalochWomen to spread awareness about Pakistani army's crimes in Balochistan. Baloch Diaspora Communities held a protest on 17th November in Dusseldorf city of Germany and on 22 November, the Baloch Diaspora activists held a protest in front of BBC World service in London United Kingdom. The protesters urged the international media including BBC to play their role to expose Pakistani state atrocities against Baloch people in Balochistan.
They Baloch Diaspora Communities had also urged the United Nations to interfere and investigate the state crimes against Baloch people. So far, the world media, Human Rights Organisations and the UN have ignored the plea of Baloch nation and remained silent on Pakistani state atrocities in Balochistan and because of the silence of international human rights organisation and the UN Pakistan continues its atrocities including abduction of Baloch women and children unabated.