Baloch Community London to pay tributes to Martyrs of Liberation struggle on 13 November
3 days ago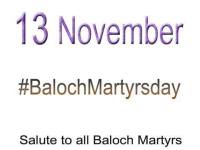 LONDON: The Baloch Community London has appealed from Baloch people in Balochistan and all over the world to hold 13 November as "Baloch Martyrs Day or National Remembrance Day" to pay respects to those who paid the ultimate price of their lives for a free, democratic and united Balochistan.
The BCL statement read as follows: "The Baloch nation like many other nations in their struggle for freedom has endured great sacrifices. In their endeavour to achieve these aims many have encountered and experienced the wrath of the occupying states. In consequence, many Baloch men, women and children in their struggle for National Liberation have been treated violently and inhumanly by the military and the intelligence services of the occupying states. The very harsh treatment of Baloch people, particularly by states such as Pakistan and Iran, is well recorded. Since their illegal occupation of Balochistan these states have been involved in the systematic imprisonment, torture, abduction and extra-judicial killings of Baloch.
"According to Voice for Baloch Missing Persons currently over 18000 Baloch political activists are in the illegal custody of Pakistani security agencies in occupied Balochistan. More than 3000 among them have been killed in custody, literally tortured to death, and their bodies were dumped in desolated areas across Balochistan. More than 1000 Baloch highly educated men and women have been target killed by Pakistan army and its proxy death criminal gangs who work as military death squads. Tens of thousands of Baloch have been displaced and many hundreds have been either target killed by state's security agencies or the proxy death squads of Pakistan army.
"Similarly hundreds of innocent Baloch have been killed by the fundamentalist Regime of Iran in Iranian Occupied Balochistan and several are on death row waiting to be executed. Sources from Iranian occupied Balochistan say more than 200 Baloch have been executed since Ruhani has come to power.
"In tribute to sacrifices of the Baloch Martyrs the Baloch diaspora and people in Balochistan have been holding a day of remembrance on the 13, November of every year. The day is nominated as "Baloch Martyrs Day or Shahmiren Balochaani Ruch."
"This date has been chosen to remember the first attack on sovereign state of Balochistan on 13 November 1839 and the Baloch martyrs who sacrificed their lives while defending Balochistan against British Imperialist army and other occupiers thereafter.
On this day remember and pay tributes to fallen heroes and heroines of Baloch liberation struggle and their ultimate sacrifice for regaining Balochistan's independence.
On this day Mir Mehrab Khan and many of his soldiers lost their precious lives while defending Balochistan against the invading army of British Empire.
On this day we express our solidarity with families of Baloch Martyrs and those who are being illegally detained by occupying forces.
In this regard the Baloch Community London will be holding an event to commemorate the Baloch Martyrs Day. They have appealed all Baloch and other human rights activists in UK to join the meeting to express their solidarity with families abducted Baloch and families of the great heroes of Baloch freedom struggle.
The event in London will be held at the following address
THE GREAT CUMBERLAND PLACE
Date: 13 November, Thursday
Nearest Tube station: Marble Arch