Balochistan Chief Minister announced that an international conference will be held to honor the literary works of poet Gul Khan Naseer.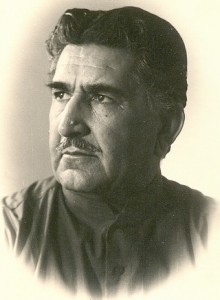 Gul Khan Naseer was a notable poet of Balochi, Brahvi and Urdu. He was a contemporary of
Faiz Ahmad Faiz
and
Habib Jalib
. Born in 1914, Gul Khan Naseer became a provincial minister, wrote many books on history and authored several collections of poetry. He died in in 1983.
"Baloch youth should study Gul Kan Naseer," said Chief Minister of Balochistan Dr. Abdul Malik Baloch while addressing a book launch ceremony on Sunday.
A seminar was held in the
Quetta Serena Hotel
which was organized by the Balochi Academy. In this seminar the new book of Balochi Academy, comprised of the entire literary collection of
Gul Khan Naseer
, was launched by the Chief Minister of Balochistan.
President of the National Party Mir Hasil Bizenjo, Spokesperson of the Balochistan government Jan Buledi, Provincial President of the National Party Dr. Yaseen Baloch, senior bureaucrats including Commissioner Quetta Division and Principal Secretary of the Chief Minister were also present on the occasion.
Dr. Malik was the chief guest of the seminar and he officially launched the book. The Chief Minister of Balochistan read a poem that he had written about Gul Khan Naseer. Speaking at the occasion, Dr. Malik paid rich tributes to late Gul Khan Naseer and announced that an international conference will be held to honor his literary works. The Chief Minister announced that he w0uld buy 200 copies of the book launched in the seminar, for different colleges and universities of Balochistan.
2014 marks the 100th birth anniversary of Balochistan great poet, Mir Gul Khan Naseer. This year has been named after him by the Baloch government.
Apart from launching the book, the seminar consisted of three segments. In the first segment, Dr. Malik and Amar Sindhu delivered speeches about Gul Khan Naseer. Abdul Wahid Bandeeg, chairman of the Balochi Academy, delivered the welcome address.
Amar Sindhu, the famous poet from Sindh, spoke passionately about Gul Khan Naseer. She said that she belongs from the city of Hyderabad where Gul Khan Naseer was imprisoned by the so-called democratic government of Zulfiqar Ali Bhutto. Intellectuals like Gul Khan Naseer were arrested not only by military dictators like Ayub Khan but also by so-called democrats, lamented Amar Sindhu.
She further said that one word uttered by a poet is more powerful than dumps of gunpowder. Intellect is the last line of defense of a nation; once destroyed nothing can save a nation from destruction. Amar Sindhu concluded her speech with the message that the "best way to pay tribute to Gul Khan Naseer is to search for his lost dreams."
In the second and third segment of the seminar many noted intellectuals, professors and literary giants read their papers about Gul Khan Naseer. These people included Munir Badini, Abdul Hakeem Baloch, Dr. Saboor Baloch, Rahim Baksh Mehar and many others.
http://www.sharnoffsglobalviews.com/baloch-poet-naseer-406/