Balochistan: Pakistani forces abducted six people including a women and two children
Sunday, March 6th, 2016 04:55 pm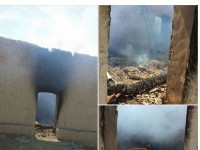 DASHT/MACH: Pakistan paramilitary forces have attacked Mach and other surrounding areas of district Bolan Balochistan on Saturday morning and abducted at least four people including a woman and two children. Two people other have been abducted from Dasht region of Turbat Balochistan.
According to details Pakistan forces have been carrying offensives in Bolan district of Balochistan from past several weeks.
A part of their continued campaign against Baloch civilians, the Pakistan paramilitary forces attacked several houses in Mach area on Saturday and abducted Rahma Ali Marri along with a woman named Jaam Khatoon and two children 2-years-old Yasin and 2-months-old Aasima.
The Pakistani forces have also reportedly abducted a number of other people including women and children but their identity could not be confirmed until the filing of this report.
The inhabitants of the affected areas were subjected to harassment and their houses were looted off valuables.
Separately, the Pakistan paramilitary FC (Frontier Corps) have conducted brutal operations in Kamel area of Dash region in Turbat Balochistan.
At least two people namely sajid son of Imam Bux and Saeedullah son of Abdullah were abducted during Dasht operation.
Several houses were set on fire and inhabitants' valuables including mobile phone, women's jewellery and other precious belongings were stolen off by Pakistani forces during a house-to-house search operation.
Baloch Human Rights organisation and pro-freedom activists have long been alleging that Pakistan forces apart from abducting Baloch people, are also involved in stealing off valuables from houses and looting precious belongings.